Save time, money and backache with the Official TrimmerGrip™. Once you try this ergonomic trimmer handle attachment you will never look back!
The Problem With Your Standard Handle
With handle in original position on line trimmer forcing a bent and twisted posture causing backache, back injuries, and limited tool control.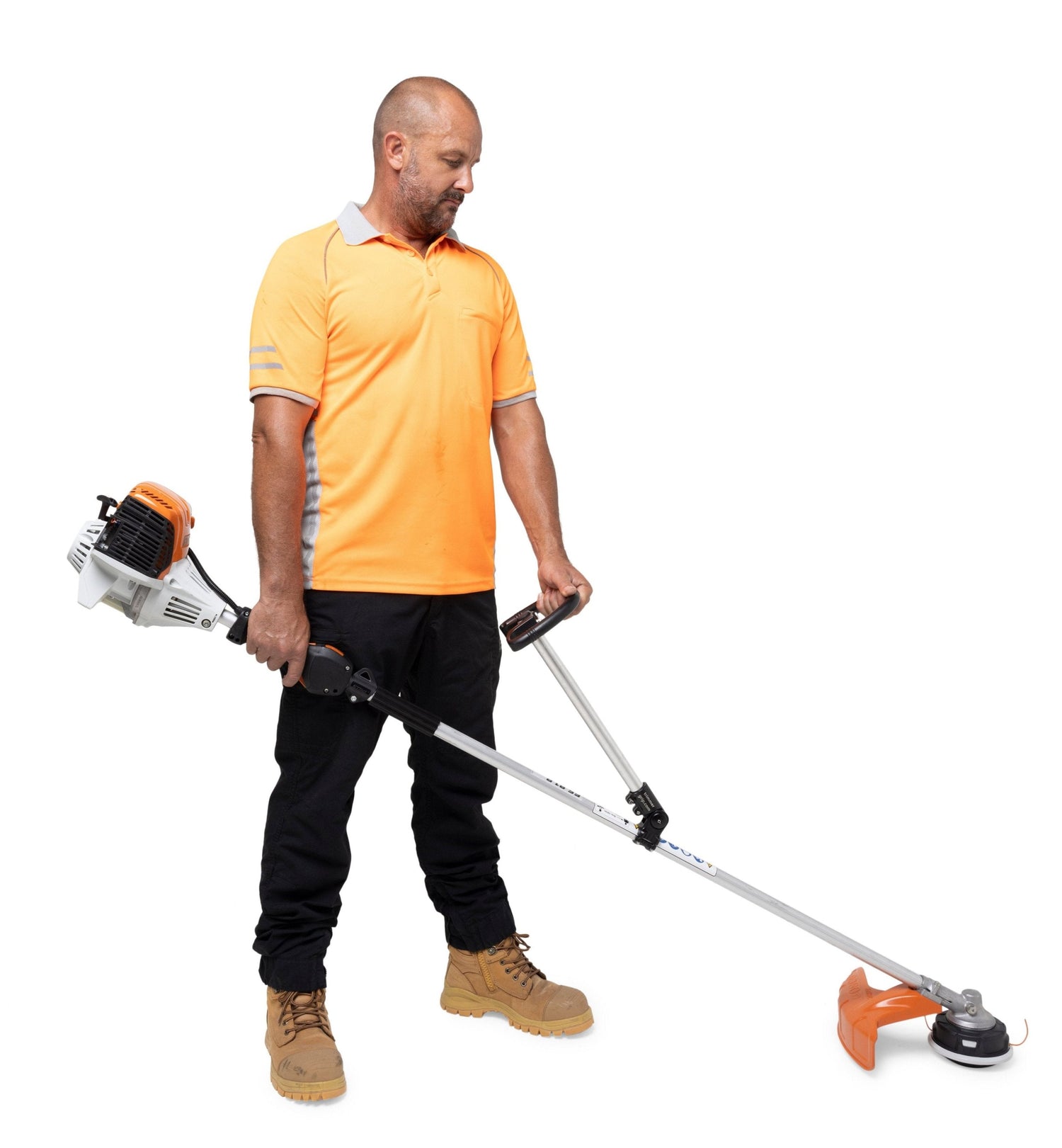 Discover The Ultimate Add-On
The TrimmerGrip™ will allow you to stand up straighter during use to reduce fatigue, strains and offer a more accurate trimming result by getting you closer to the trimmer head. It is an asset for Landscapers and Gardeners along with left handers stuck on the wrong side of some trimmers.
Trimmergrip Advantages
Reduce Or Eliminate RSI, Back Pain & Injuries

Stop spending money on massages, physio or workcover injury claims related to line trimming. Trimmergrip's adjustable position allows you to stand up straight and comfortable with correct posture that standard handles do not provide.

Perfect for people suffering from back pain.

Improve Productivity

Trimmergrip's unique specifications gives you maximum leverage on machine for precision trimming and larger working swing radius will save you time, money and energy.

Design & Ergonomics

-Trimmergrip's clamp has been through an extensive engineering and test procedure to be the most robust on the market which is fully adjustable on all axis with hand adjustable nut for quick pivot position changes.

-Versatile loop handle allows you to adjust your grip position to suit your techniques and variable trimming conditions. Note: Your original handle will fit trimmergrips shaft if preferred.

-Hand/wrist is not stuck at 90 degree angle to shaft which after prolonged use may increase chance of RSI.

-Depending on setup position can be installed with original handle on line trimmer.

-Compact folded down design allows for storage/transport in contractor trailer compartments.
TRIMMERGRIP 2 MIN INSTALL VIDEO
Buy TrimmerGrip Today
Get the accessory that will save you time, money and relieve backache!
Trimmer Grip
Regular price
$139.95 AUD
Regular price
Sale price
$139.95 AUD
Unit price
per
Sale
Sold out
Share
View full details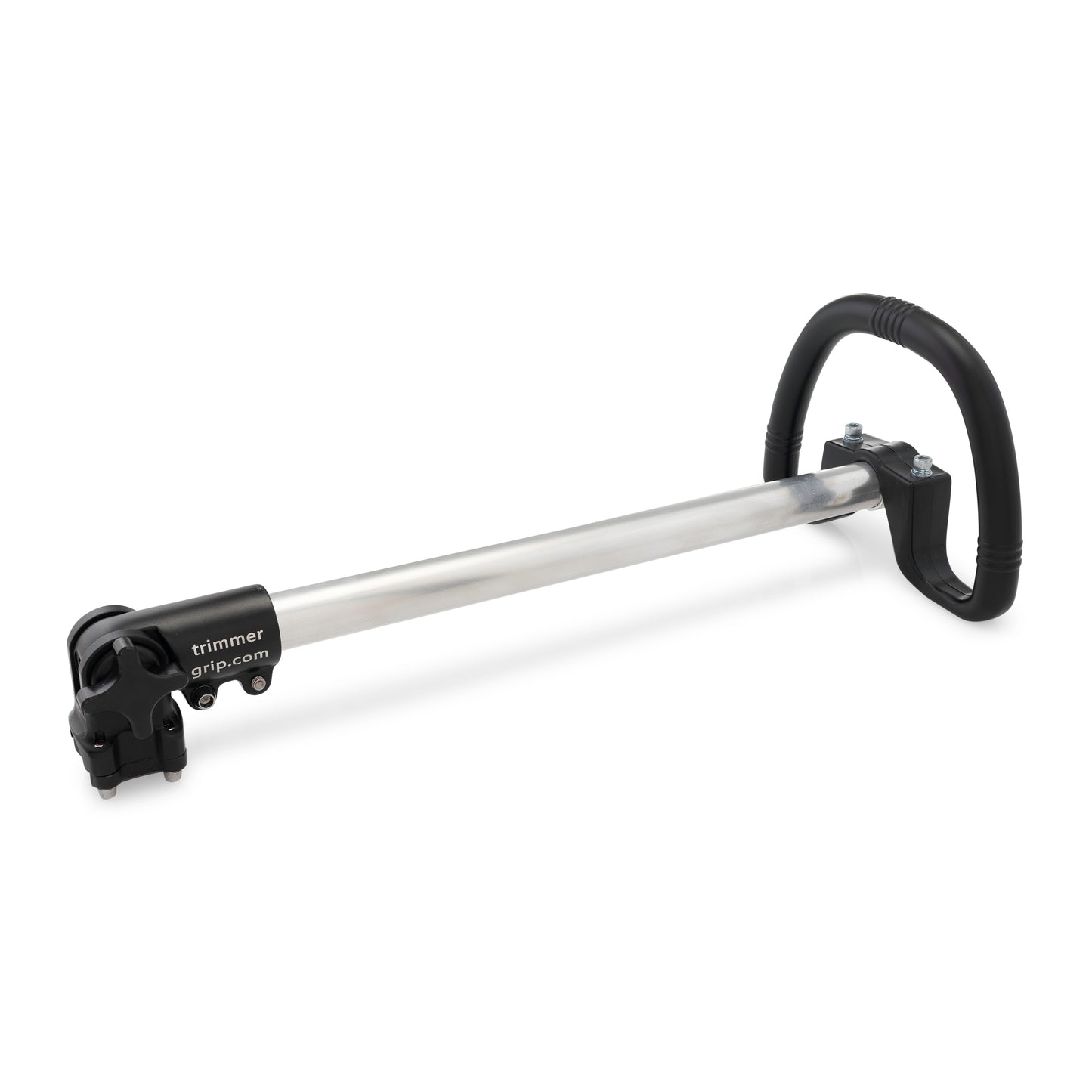 100% MONEY BACK GUARANTEE
We are so confident in the TrimmerGrip that if you are not satisfied within 30 days, we will refund 100% of your purchase price.
Trimmer Grip is fantastic!

We have been using these on our line trimmers for 3 months so far and have had zero problems. Let's talk versatility! Some of our staff are taller or left-handed and this is just a brilliant addition to enhance our equipment. Can't put a price on reducing RSI and keeping our staff fit for work. It was easy to install and it also won't break the bank. We will be buying these again if we ever need to add more! Do yourself a favor and try one!
Swanson Grounds & Gardens

Mowing Business Benefits

We run a busy mowing business, with our crews regularly spending hours on the snipper. This has often resulted in back pain and down time due to extended periods spent bending. Since purchasing the trimmer grip this has been all but eliminated. The crews love it - it's easy to install and can be easily adjusted on the road.

Zoe Chesters

Acreage Maintenance Made Easier

Very happy with the new trimmer grip now installed on my stihl brush cutter. I live on acreage and it made it easier to use and friendlier on the body after a few hours use. I would definitely recommend it to others if considering. Many thanks, Craig Fry Molendinar QLD

The Best for Backs

"This has saved my back!" I can now last for hrs rather than 20mins on my weedwacker. Thanks heaps!

A Brice